Interview with Balázs Lidvin, chief-executive of KSH Rugógyár, on the company's expansion possibilities and spring products, as well as investments and the Nyúl-based unit's Industry 4.0 solutions.
The interview was originally published: Hungarian-made springs for the global market – autopro.hu
– KSH Rugógyár, a Hungarian member of Germany-based Kurt Kauffmann Technische Federn Group, relocated from Győr to the industrial park in Nyúl, just ten kilometres away, with a greenfield investment back in 2014. Through the launch of its direct sales activities, over the years the company has managed to gradually increase its revenues. What is the reason behind the Hungarian unit only having launched direct sales in 2020, after more than 23 years?
– The group is celebrating its 50th anniversary next year, and since its foundation it has been under the ownership of the Kauffmann family, with the third generation now taking an active role in management. Following the retirement of Mr. Werner Kauffmann, external executives were appointed as the head of the German and Hungarian companies (myself in Hungary), forming a new partnership between the Hungarian and German divisions. It is interesting to note that Mr. Kauffmann's mother was originally from Hungary, so the owners have always viewed Hungarian culture and know-how as an opportunity.
– Outside the Hungarian market, does KSH Rugógyár conduct direct trade with foreign partners? How exactly is the customer base structured?
– Sales are split between the two companies; in effect we can talk about an integrated sales system, in which we mutually build on each other's advantages. The two companies have also partially split technologies between them – in Hungary we are more focused on torsion springs, wire forms and their assembly. As a result, there are customers where it makes more business sense for us to be in direct contact with them from an efficiency point of view. While we operate this way both at a domestic and international level, in Hungary most of the time we are in direct contact with the customer.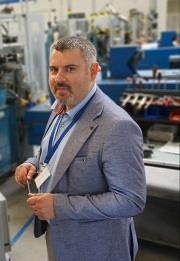 We are present in several branches of industry, automotive being the most substantial, since we have been active there since the beginning, being partners with the largest OEMs and Tier 1 suppliers. This segment accounts for 60-70 percent of our group-level sales. Other segments include the furniture, railway, aviation, electronics and medical instruments sectors.
Our customer base is geographically diverse, too: we deliver products to China, Mexico and of course Europe, while the German company has clients as far as in Australia.
– We are talking about a truly global company, then.
– Indeed, and probably only a few people realize that spring manufacturing is a segment that for the most part consists of smaller factories, not large corporations with thousands of employees. Spring manufacturing is mostly about mass production, the most advanced machinery is capable of producing springs at large quantities, which is why it is not really worth operating larger plants.
– How has the volume of independent sales developed over the last two years?
– In the last two and a half years, direct sales accounted for approximately €2 million in revenue growth. The volume of independent distribution has gone up from an initial 20 percent to 45 percent, and our total turnover has increased by a similar amount. In the future we are expecting further expansion, we believe there is significant growth potential in the Hungarian market. For example, after a number of years we have only just established contact with a Japanese company operating just an hour away from our site that up to now has sourced all its springs from a foreign company.
We offer a myriad of advantages to our customers: flexibility, cost efficiency, scalability in production, security of supply and the benefits of local logistics, since logistics expenses are significantly reduced if they choose us over a foreign supplier.
– Last year, the Hungarian unit received a HUF 250 million investment. What sort of developments were carried out exactly?
– The investment was part of a competitiveness enhancement project. I would divide it into three fundamental groups: firstly, investments related to new projects, secondly, technology development and lastly, efficiency improvements and automation.
– To what extent is the Hungarian unit automated currently? In what ways and to what extent do you feel the benefits of automated solutions? What kind of Industry 4.0 solutions have you implemented?
– For the most part we use automated manufacturing equipment that only requires manual input during feeding or minor subtasks. We deliver a number of our products pre-assembled, where depending on volume we use automated or semi-automated assemblers and camera monitoring units, which all increase efficiency and point towards Industry 4.0.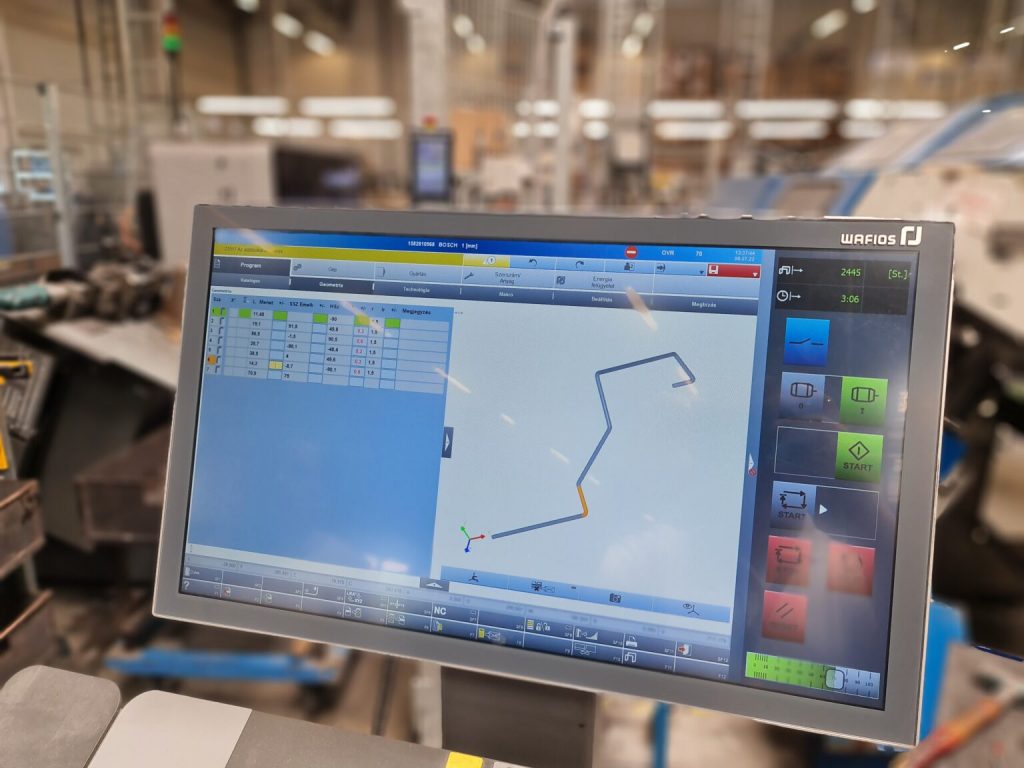 To what extent we consider a factory automated depends on the segment and the product: the higher the volumes are, the more explicit the need for automation becomes, which is why it is more typical of the springs we manufacture for the automotive and furniture sectors. We have fully automated production lines that are capable of manufacturing 50 million torsion springs a year. What is also important to mention is that our baseline IT infrastructure also operates as a cloud-based system, something that we would also like to establish in our corporate governance system going forward.
With mid-series production we tend to favour semi-automated solutions, and we also have unique products – mostly for the aviation industry – that are only manufactured in quantities of a few hundred units, where automation would not be worthwhile and are produced with manual tooling instead.
Given our priority on quality excellence, we are primarily focused on process capability. Nearly all of our machines are equipped with camera monitoring units, which allow us to continuously monitor the key parameters of our products.
– How is a spring factory capable of achieving sustainability?
Sustainability is receiving more and more emphasis in our operation, which is also supported by our supply system with multiple layers of redundancy. Having repeatedly proven itself during times of crisis, the security of our base material supply is exceptional compared to our competitors. As tools and auxiliary materials also account for a large portion of the costs of spring manufacturing, we have been advancing towards a local consignment warehousing system, which offers high levels of stock security. Additional elements of sustainability have been integrated into a dedicated ten-year strategy, which of course has specific targets assigned.
– Do you have further investments planned at the Nyúl unit?
– We consider continued development crucial, and over last two years we have started replacing our older machines, even when they were still able to fulfil their functionalities, since it can massively improve efficiency to run equipment utilizing a newer technology. In the years to come we are planning to replace most of our older machinery, and in these investments we will be relying on German, Italian and Japanese machines for their reliability – taking into consideration the aspects of sustainability as a result.
In addition, we have plans to increase our sales volume, which will certainly attract further investments, as a larger volume will require increased production capacities.
– You have recently launched the new website of KSH Rugógyár. Which targets is the new platform aiding to achieve?
– There are numerous Hungarian companies and subsidiaries that are sourcing springs from abroad because of their lack of familiarity with Hungarian suppliers – and with KSH Rugógyár. We would like to change this, and direct sales are also playing a role in that.
With the new website we are focusing on customer-centred, digital solutions that aid buyers with the latest IT solutions, including a personal account, through which even larger files of technical documentation can be shared in a secure and simple way during quote requests. Of course, additionally to our buyers we would like the new website to address our current and future employees, making our company available and accessible in the region's digital domain as well.
Besides Hungarian, our finished website will be available in three additional languages (currently in English and German and then later in Romanian), and we will have constant activity on key social media platforms, too. Our contacts with automotive subsidiaries in Romania have been highly successful for the company, and we have plans to further consolidate these ties.
– Which is the Nyúl site's most successful product?
– I would highlight two things: one is the high-quantity production of torsion springs, and the other is the production of wire forms, in which we are specialists within the group, in fact, there are only a handful companies worldwide that have as much experience in this field as we do.
– KSH Rugógyár has been operating for over a quarter of a century, which a serious achievement. What did you start from and where are you headed? While in recent years the economic situation has become less and less predictable, what plans do you have for the years to come?
– Since its launch, the company has seen significant growth, both in the number of its employees and its revenue, and as of now we have a staff count of 90 professionals, and our revenues for this year are expected to reach €7 million. In the following years we plan to further increase our sales volumes, which will require expanded capacities, that is, further investments. The Nyúl site has excellent upgrade potential, there are multiple possibilities for further development.
Sustainability will also play an increasing role, since it is crucial to think not just in the short term but over the long run. Additionally to improving efficiency, our goal is to reduce our ecological footprint and achieve energy neutrality.
Source: Hungarian-made springs for the global market – autopro.hu